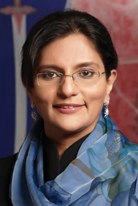 Executive Vice Chairperson
Apollo Hospitals Group
Preetha Reddy is the Executive Vice Chairperson of the Apollo Hospitals Group, Asia's foremost integrated healthcare provider. She is widely recognized for her contributions in making high quality healthcare accessible to millions across the country.
Preetha works closely with the Apollo's 9000 clinicians in introducing contemporary protocols to continuously enhance clinical outcomes. She leads the thrust on quality improvement processes to achieve the highest standards of patient satisfaction. She is the Managing Trustee of the Apollo Hospitals Educational Trust, a principal body steering the educational endeavours of the group.
She was a Founding Member of the Quality Council of India and is now President of NATHEALTH for the year, 2020-2021.
Committed to service, Preetha Reddy provides leadership and direction to several social projects like SACHi (Save a Child's Heart Initiative) which supports diagnostics and treatment of underprivileged children ailing with congenital heart diseases.
In recognition of Apollo delivering outstanding medical care during the COVID-19 outbreak, Preetha Reddy was awarded the Economic Times Businesswoman of the Year award. She was also conferred with the 'Healthcare Personality of the Year Award' by FICCI for her notable contributions to the fields of healthcare and social science. She was conferred the 'ABLF Award for Business Courage' by the Asian Business Leaders Forum She received the Lifetime Achievement award for distinguished service in the field of Social Science from the Loyola Forum for Historical Research.
Preetha Reddy was conferred the degree of Doctor of Science (Honoris Causa) by The Tamil Nadu Dr. MGR Medical University.