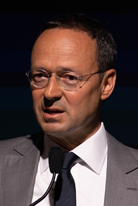 Chief Executive and Founding Partner
Baring Private Equity Asia
Jean Eric Salata is the Chief Executive and Founding Partner of Baring Private Equity Asia (or "BPEA"). Mr. Salata oversees all investment and divestment decisions made at the Firm, as well as its strategic direction. Mr. Salata has been responsible for the investment activity of the Firm since 1997 when he started the regional Asian private equity investment program for UK-based Baring Private Equity Partners Ltd. Mr. Salata later led the management buyout of this program in 2000 to establish BPEA as an independent firm.
BPEA is one of the most experienced, best-resourced and strongest performing private alternative investment firms in Asia, with a 23-year track record and over US$21 billion of committed capital. The firm runs a private equity investment program, sponsoring buyouts and providing growth capital to companies for expansion or acquisitions with a particular focus on the Asia Pacific region, as well as investing into companies globally that can benefit from further expansion into the Asia Pacific region. BPEA also manages dedicated funds focused on private real estate and private credit.
The firm has over 190 employees located across offices in Hong Kong, China, India, Japan, Singapore, Australia, and the US. BPEA currently has over 41 portfolio companies active in Asia with a total of 246,000 employees and sales of approximately US$41 billion.