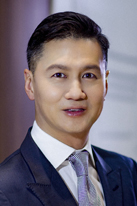 Managing Principal and Chairman
Gaw Capital Partners
Goodwin is the Founder and Managing Principal of Gaw Capital Partners, a uniquely positioned real estate private equity fund management company that focuses on markets in Greater China and other high barrier to entry markets globally. The firm manages value-add/opportunistic funds in Vietnam and the US, a Pan-Asia hospitality fund, a European hospitality fund and provides services for separate account direct investments globally. Gaw Capital Partners has raised equity in excess of USD$15.6 billion as of 2020 Q2 and currently commands assets of over USD$26.7 billion under management encompassing residential developments, retails centers, hotels, commercial, IDC and logistic properties.
Prior to founding Gaw Capital Partners, Goodwin founded Downtown Properties in 1996 in Los Angeles. With over 20 years of real estate investment and management experience in the United States and Asia, he is especially interested in re-positioning distressed heritage properties. These include the renovation of the iconic Hollywood Roosevelt Hotel and conversion of over 456,000 square feet of empty historical buildings into hip residential lofts in downtown Los Angeles including the acclaimed Douglas Building.
Goodwin received "Asia Industry Figure of the Year" in 2013, 2015 and 2018 by PERE, a market-leading award voted entirely by private equity real estate industry professionals, recognizing his trusted leadership in real estate investing. He recently received "Urban Visionary Award" from Asia Society in 2019 which recognized his accomplishment in building a world-class real-estate portfolio by connecting the past to the future.
Goodwin is currently a member of ULI's Global Board, Citi's Asia Pacific Advisory Board, an active member of Young Presidents' Organization (YPO) in Hong Kong Chapter and Intercontinental Chapter. He is also the member of the Board of Overseers of the School of Engineering and Applied Science in the University of Pennsylvania and a board member of Lawrenceville School.