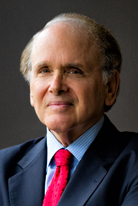 Vice Chairman, IHS Markit
Pulitzer Prize Winner
Daniel Yergin is a highly respected authority on energy, international politics, and economics, and a Pulitzer Prize winner. He is Vice Chairman of IHS Markit, one of the leading information and advisory firms in the world.
Time Magazine said, "If there is one man whose opinion matters more than any other on global energy markets, it's Daniel Yergin." Fortune said that he is "one of the planet's foremost thinkers about energy and its implications."
Dr. Yergin's new book The New Map: Energy, Climate and the Clash of Nations is described by the London Sunday Times as a "wonderful book".  He is the author of the bestseller The Quest described by the New York Times as "necessary reading for C.E.O.'s, conservationists, lawmakers, generals, spies, tech geeks, thriller writers," among many others.
Dr. Yergin is known around the world for his book The Prize: The Epic Quest for Oil Money and Power, which was awarded the Pulitzer Prize and a number one best seller. His other books include Commanding Heights: The Battle for the World Economy.
Dr. Yergin has served on the U.S. Secretary of Energy Advisory Board under Presidents Clinton, Bush, Obama and Trump. He is a director of the Council on Foreign Relations and a trustee of the Brookings Institution. He is a member of Singapore's International Energy Advisory Panel.
Dr. Yergin holds a BA from Yale University and a Ph.D. from Cambridge University, where he was a Marshall Scholar.