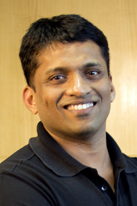 Byju Raveendran is the Founder and Chief Executive Officer of India's largest ed-tech company and the creator of India's most loved school learning app – BYJU'S, that is reinventing how students learn. An entrepreneur by chance and a teacher by choice, he started BYJU'S with the vision to help students fall in love with learning and change the way India learns.
Born to teacher parents in Azhikode, Kerala, India, Byju is an avid sportsperson (expert in six games) and believes that children can learn a lot outside the classrooms by playing multiple games. Byju has built the brand BYJU'S purely on passion and the drive to create self-initiated and life-long learners.
He started BYJU'S classes in 2008 which became a household brand due to his unique teaching style and focus on learning. With the aim of reimagining learning from its roots, Byju harnessed the power of technology to reach out to the K-12 segment of students across the country. In 2011, the company was incorporated (Think and Learn Pvt Ltd) with focus on the school (K-12) space.
The real breakthrough however, was in 2015 with the launch of the BYJU'S – The Learning App which has seen a phenomenal engagement – with 80 million registered users and reach of over 1700 cities and towns in the country so far. The learning app makes use of original content, watch-and-learn videos, rich animations and interactive simulations that make learning contextual and visual. The app also adapts to the unique learning style of each student, inviting them to explore different concepts.
He is the recipient of Forbes Entrepreneur of the year (2020-21), Bloomberg Businessweek 50 List (2020), Fortune 40 under 40 List (2020), Manorama Newsmaker of the Year Award (2020, 2019), IMPACT Person of the year (2019), the Ernst and Young Entrepreneur of the year award-Startup (2018), Fortune 40 under 40 Award (2018), CNBC Young Turk of the Year (2017) and Express IT Newsmaker of the Year (2017).
Originally from Kerala– Byju lives with his family in Bangalore now. Apart from being a passionate teacher, Byju likes travelling and experiencing new things. A big follower of football leagues, he is a hardcore FC Barcelona fan.